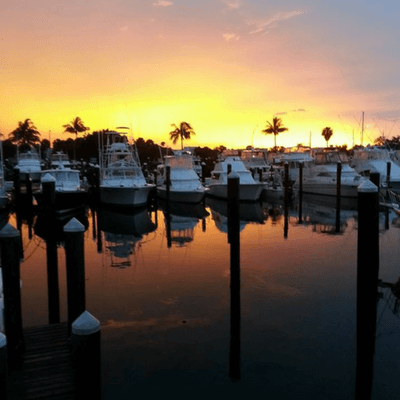 About The Original Tiki Bar
The Original Tiki Bar & Restaurant was built in early 1990 at the Fort Pierce City Marina. The Tiki Bar, as it is affectionately known, soon became a favorite destination for those in search of great food and drinks, all served in a tropical setting.
There have been two major changes during the life of The Tiki. The popularity of the Tiki Bar warranted the transformation of the restaurant from a 60 seat dining room to one with 200 seats. This change occurred in October of 1998, and now it is not uncommon to see all 200 seats taken with a line of hungry and thirsty patrons waiting at the door for a seat.
The second biggest change to occur at the Tiki Bar came as a result of Mother Nature. In September of 2004, the Treasure Coast of Florida was hit by two major hurricanes only weeks apart, Frances and Jeanne. The devastating winds and storm surge not only destroyed almost the entire Fort Pierce City Marina, but also wreaked havoc on the Tiki Bar. The Tiki Bar sustained major damage to its roof, kitchen, bathrooms and interior decor. The restaurant was forced to close for four months while crews worked around the clock to restore the Tiki Bar to its original luster. The hard work paid off, and on December, 31, 2004, the Tiki Bar once again opened its doors – "Better than ever!"
Come visit the Tiki Bar where we overlook nothing . . . but the beautiful Indian River.
The Original Tiki Bar proudly supports these charities: